Fight Cybersex Trafficking
Fight Cybersex Trafficking
Unlike bars or brothels, cybersex trafficking is completely hidden and surrounded in anonymity. The abuse can happen in any location with internet and a webcam, or even just a mobile phone. This crime is growing, with Philippine authorities receiving thousands of referrals a month.
Cassie was 12 when a family friend promised her a new life in Manila. To on-lookers, Cassie had new clothes, a good home and a chance to go to school. But behind closed doors her guardian was running a global cybersex trafficking ring. For nearly five years Cassie was raped and forced to perform sex acts in front of a webcam to customers all over the world.
Cybersex trafficking is a devastating reality for thousands of children who today have no one to protect them. IJM are using their expertise to fight this new abuse - we worked with Philippine authorities to pinpoint Cassie's location and rescue her, so that today she is safe.
Get Involved

Video

About the Organisation
Pray
Lord, we pray for an end to this horrific abuse that is occurring all over the world. We thank you for the passion and devotion of IJM - give them wisdom and knowledge to find solutions to fight the problem on a global scale and help investigators as they work to find more victims. Provide care for those rescued victims and bring people to care and support them too.
---
Make some noise
Help raise awareness and prayer support by sharing this campaign on your social media feed.
---
Get more involved
Pray persistently for this crime to cease:
Pray for investigators as they work to find victims - this is particularly challenging because of the nature of this abuse.
Pray for the provision of aftercare homes - many victims are very young, and many are boys. Many current aftercare homes aren't suitable for long-term and varied needs of victims.
Pray for solutions that will end this new form of abuse quickly.
Give to the work of IJM - Join in the fight to end this heart-breaking crime by financially supporting the work of IJM
Visit the website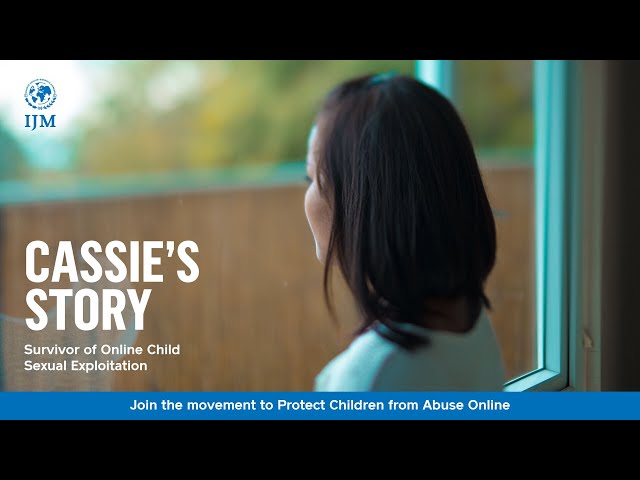 Cassie was tricked to move to Manila when she was 12. She had big dreams, but what she found was her nightmare when she became a cybersex slave.
Until rescue came.
International Justice Mission is a global organisation that protects the poor from violence throughout the developing world. IJM partners with local authorities to rescue victims of violence, bring criminals to justice, restore survivors, and strengthen justice systems.
Inspired by God's call to love all people and to seek justice, IJM's team of Christian lawyers, social workers, investigators and other professionals protect the poor from violence without regard to race, religion or any other factor.
For more information go to www.ijmuk.org