Geneva 16
27th-30TH OCTOBER 2016
- 2016 Programme Information and Travel Info now LIVE! -
The momentum of our annual gatherings has been building. Last year, almost 1000 people met in Vienna to celebrate 15 incredible years of non-stop prayer and worship...
Over 4000 people from 40 nations worshipped at St Stephen's Cathedral, at the invitation of Cardinal Schonborn, the Bishop of Vienna. We departed with the words of St Francis of Assisi ringing in our ears, 'Now let us begin.'
"Awaken the Dawn..."
As we prepare for Geneva 16 our continent is being shaken to the core, as old certainties collapse and darkness intensifies. However, we are people of hope, and along with the psalmist, we want to be steadfast and confident in God as we set our faces to 'awaken the dawn' of God's new story for Europe and the Middle East.
UPDATE : Tickets for Geneva'16 have now SOLD OUT as o​​​​​​ur venue is at full capacity .

However, we do have a number of day tickets available on the door for our overflow room. Details are below.
Day Ticket Information

Friday:
This Day Ticket costs 30CHF and includes two main sessions ( in overflow room ) and 2 seminar slots. This ticket does not include meals.

Saturday:
This Day Ticket costs 20CHF and includes the morning session ( in overflow room ), 2 seminars and cathedral event.
This ticket does not include meals or access to the party.
Book now
Location

Ticket Information

Video

Speakers

Main Programme

Travel Info

Seminars & Auction

Special Workshops

Venues

Uberblick

Tickets

Referenten

Veranstaltungsorte
Location: Geneva, Switzerland
Date: 27 Oct 2016 - 30 Oct 2016
Ticket Types and Inclusions
Conf
Accom
Meals
Price
Single Room (per person)
[SOLD OUT]

√

√

√

£340

Twin/Double Room (per person)*

[SOLD OUT]

√

√

√

£245

Student - Inclusive ticket
[SOLD OUT]

Student - Event and meals ticket

[SOLD OUT]

Student - Event only ticket

√


√

√

√

√


√

£195


£125

£85

Ticket only with meals

[SOLD OUT]

√

√


(lunch and dinner only)
£150

Ticket only without meals

[SOLD OUT]

√

£100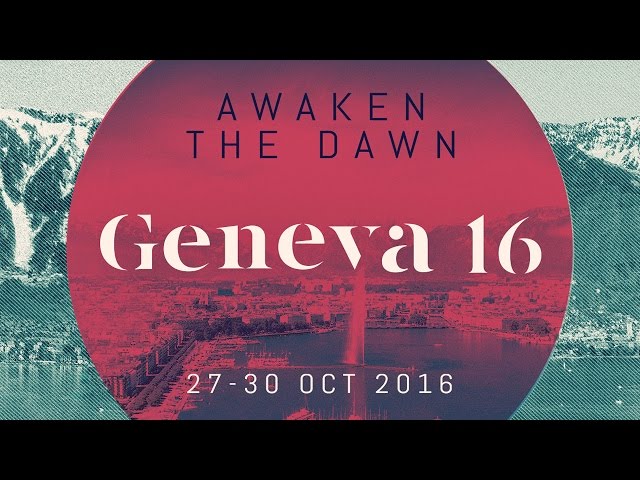 Adam Cox
Adam is one of the leaders of Navah Church in Kansas city, and also serves on the global and national oversight team for 24-7 Prayer Communities (Boiler Room Network). He carries a passion to see people discover the reality of Jesus' love, walk in new identity as sons and daughters, and live out the dreams of God in kingdom family. Adam is married to Juii and has three daughters.
Miriam Swaffield
Miriam Swaffield leads all things student mission for Fusion, a movement that helps students and churches connect through studentlinkup.org and mobilises this generation to share Jesus. She is a passionate communicator, dabbles in spoken word poetry, finds most things funny and thinks she's more of a surfer than she actually is.

Pete Greig
Pete is one of the founders of 24-7 Prayer and leader of Emmaus Rd Boiler Room community in Guildford, England. Pete has also authored a number of books, including Red Moon Rising, and God on Mute.
Dr. Johannes Hartl
Johannes is the director of the House of Prayer in Augsburg, Germany which, together with his wife Jutta, he founded in 2005 and has been praying 24-7 ever since. He studied German philology and philosophy and received a doctorate in Catholic theology in 2007. Johannes had been involved in evangelistic work amongst teenagers and the national executive committee of the charismatic renewal for many years. He is the author of 12 books on spirituality and prayer and lives with Jutta and their four children in Augsburg.
Luke and Anna Hellebronth
Luke and Anna are based at St. Luke's Gas Street Church in Birmingham where Anna is the worship pastor and Luke heads up Worship Central with Tim Hughes. Luke and Anna have a lot of experience leading worship teams and have travelled much of the world investing in local church and the Worship Central network. They have written many songs including 'Spirit Break Out', 'Ready for You', 'Stand Up' and 'Waves'
Main Programme
THURSDAY
14:00: REGISTRATION OPEN - Hostel
18:00: REGISTRATION OPEN - Uptown
19:00 - 21:30: MAIN SESSION 1 - Uptown
FRIDAY
09:15 - 12:00: MAIN SESSION 2 - Uptown
12:15 - 14:15: LUNCH - Uptown
14:30 - 15:30: SEMINAR 1 - Uptown
15:45 - 16:45: SEMINAR 2 - Uptown
17:00 - 19:00: DINNER - Uptown
19:30 - 21:30: MAIN SESSION 3 - Uptown
SATURDAY
09:15 - 12:00: MAIN SESSION 4 - Uptown
12:15 - 14:15: LUNCH - Uptown
14:30 - 15:30: SEMINAR 3 - Uptown
15:45 - 16:45: SEMINAR 4 - Uptown
18:00 - 20:00: MAIN SESSION 5 - St Peter's Cathedral
20:30 - 23:00: PARTY and AUCTION - Venue TBC
SUNDAY
09:30 - 12:00: MAIN SESSION 6 - Uptown
Please note: this is a provisional schedule and specific times are subject to further changes.
In Geneva, all public transport is free if you are booked into a hotel or hostel.
From the Airport
When you arrive at the airport, head towards the baggage claim and before departing customs you will see a free ticketing booth where you can select a free travel ticket for up to 80 minutes.
This will give you access to the train as you travel to your accommodation. When you check in at your accommodation you will be given a free travel ticket for the duration of your stay.
Getting Around
From the Airport:
Get any train to Geneva main train station. Leave the train station on the left side of travel direction.
From the train station:
Walk to Uptown: 3 minutes
Walk to the main accommodation (Ibis Hotel): 15 minutes
Walk to St Peter's Cathedral: 20 minutes
Seminar Programme
We're running 5 different seminar streams at Geneva16: Enlarge, Experiment, Establish, Enable and Equip.
Friday Session 1
Student Awakening- Miriam Swaffield and Edwin Hamelink
Live a life of Worship – Luke and Anna Hellebronth
In Practice: Boiler Room Models - Christian Wittwer, Ralf Neumann and Mike Andrea
24-7 Prayer in a Catholic Context – Maxi Oettingen
Growing as a Team: The 4 Player Model - Roger Ellis
Friday Session 2
In Practice: Creative Mission Models- Linda Sourris, Rich Wilson and Danny Hampson
In Practice: Corporate Prayer Models - Brian Heasley and Alain Emerson
HOP: The Why and How of Houses Of Prayer- Christian Wittwer and Jill Weber
24-7 Prayer Spaces in Schools- Phil Togwell and team
Growing with Your Ministry - Karl Martin
Saturday Session 1
Jesus for Muslims – Roxy Foulkes and Gordon Hickson
Spiritual Disciplines - Jill Weber and Peter Giokas
Churches: Starting from Scratch - Joe Steinke
Running a 24-7 Prayer Room (German) - Michael Lüscher
Growing in Understanding - Graham Tomlin
Saturday Session 2
Everyday Evangelism – Kuno
Releasing the Prophetic – Bill Cahusac and Chris Westhoff
Churches: Growing from an Established Base - Karl Martin
Order of the Mustard Seed - Pete Ward and Jill Weber
Growing through Life's Seasons - Roger Nix
- Please note that seminars are subject to change -
Saturday night Auction
Our annual auction is an extravagant display of generosity, as we auction handmade items and donate the money to others in the 24-7 Community.
This year the theme is slippers - so please come to Geneva with your handcrafted creations. Head to the blog for more information!
This year at Geneva we'll be featuring two special workshops alongside our seminar programme:
Prayer Walk around Geneva
On Friday afternoon we'll be hosting a prayer walk around the city of Geneva - an opportunity to intercede for this city and for the world.
Break Out & Pray
On Saturday afternoon there will be an opportunity for some people at Geneva'16 to travel to a nearby city to pray:
As a small team of 4 people you will travel to a destination somewhere in the French-speaking part of Switzerland and neighbouring France.
You'll explore the city, pray for it and the French-speaking world.
Practical information:
You will need to register for this workshop at the info board in the main venue when you arrive and you'll receive your travel destination and travel tickets on Saturday morning (remember your passport or ID card!).
We're so excited to see how God uses this opportunity to travel and to pray for neighbouring cities.
(Travel expenses are sponsored by the Manor House Community, Switzerland)
Accommodation
The main accommodation ticket (single and twin/double rooms) will be in the Hotel Ibis.
Please note that in Geneva, any hotel ticket also includes free public transport within the city.
1. Main Accommodation:
Unfortunately our tickets including accommodation have SOLD OUT.

However, there are many affordable accommodation options in Geneva; we've listed a few recommendations that you can book below.
Main Accommodation (Sold Out) - Hotel Ibis Geneve Centre Nations
Accommodation and all-you-can-eat breakfast, 1 minute from public transportation and 6 km from the airport.
(Address: Rue du Grand Pre 33-35, 1201 Geneve, Switzerland)
Alternative hotels and hostels -
Hotel Ibis Budget Geneve - website
Hotel Ibis Geneve Centre Gare - website
The Geneva Hostel - website
City Hostel Geneva - website
Airbnb.com - website
2. Main Venue - 'UPTOWN GENEVA'
The majority of the Gathering will be held at 'Uptown Geneva: Business and Arts Centre' venue (Rue de la Servette 2, 1201 Genève, Switzerland). Details can be found on their website.
3. St. Peter's Cathedral
On Saturday night we are honoured to be invited to gather in the beautiful reformed St. Peter's Cathedral, famous for John Calvin preaching there.
Die Wichtigkeit unserer jährlichen Treffen nimmt stetig zu. Letztes Jahr trafen sich um die 1000 Menschen in Wien, um 15 geniale Jahre Nonstop Gebet und Anbetung zu feiern…
Auf Einladung von Kardinal Schönborn, dem Bischof von Wien, beteten über 4000 Menschen gemeinsam im Stefansdom in Wien Gott an. Die Worte von Franz von Assisi klangen bei der Abreise aus Wien in unseren Ohren nach: 'Nun, lasst uns beginnen'.
"AWAKEN THE DAWN..."
Während wir uns auf Geneva16 vorbereiten, wird unser Kontinent bis ins Tiefste erschüttert, Bekanntes wird in Frage gestellt und die Finsternis nimmt zu. Aber wir sind Menschen der Hoffnung. Standhaft und im Vertrauen auf Gott wollen wir seine Werkzeuge sein, wenn er die Geschichte Europas und des Mittleren Ostens neu schreibt.
Unsere Treffen sind offen für alle; ganz gleich ob du ein Künstler, Aktivist, Lehrer, Geschäftsmann, Gebetsleiter, Student, Missionar oder Gemeindegründer bist, ein langjähriger Freund von 24-7 oder unsere Bewegung gerade erst am entdecken bist: Wir möchten dich herzlich zu unserem Treffen im Oktober in der wunderschönen Stadt Genf in der Schweiz einladen.
Ort: Genf, Schweiz
Datum: 27.-30. Oktober 2016
TICKETS
Treffen
uNTERKUNFT
eSSEN
pREIS
Einzelzimmer (pro Person)
[AUSVERKAUFT]


√

√

√

£340

Doppelzimmer (pro Person)[AUSVERKAUFT]

√

√

√

£245

Schüler (pro Person)
[AUSVERKAUFT]

Schüler option 2

Schüler option 3


√


√

√

√

√


√

£195


£125

£85

Ticket ohne Unterkunft inkl. Essen

√

√


(Ohne Frühstück)
£150

Tickets ohne Unterkunft und Essen

√

£100
Adam Cox
Adam ist einer der Leiter der Navah Gemeinde in Kansas City (USA) und ebenfalls Teil des weltweiten wie auch des nationalen Leitungsteams der 24-7 Prayer Gemeinschaften (Boiler Room Netzwerk). Er liebt es, wenn Menschen entdecken was es heisst, mit Jesus auf dem 'Liebesweg' zu gehen und in einer neuen Identität als Söhne und Töchter unterwegs zu sein und seine Träume des Königreichs zu leben. Adam ist verheiratet mit Juli und hat drei Töchter.
Miriam Swaffield
Miriam leitet die Studenten Mission von 'Fusion' und reist umher, um die Studenten für die Mission und Evangelisation in ihren lokalen Gemeinden auszurüsten. Sie lebt in York, liebt es, sich mit Slam Poetry auszudrücken und versucht nicht nonstop Witze zu erzählen.
Pete Greig
Pete ist einer der Gründer von 24-7 Prayer und heute noch Teil des weltweiten Leitungsteams und leitet die Emmaus Rd Gemeinschaft in Guildford, England. Pete hat auch einige Bücher geschrieben, unter anderem Red Moon Rising und Offline (God on Mute). (Alpha weglassen, ist nicht mehr aktuell).
Dr. Johannes Hartl
Johannes ist Leiter des Gebetshauses Augsburg in Deutschland, das er zusammen mit seiner Frau Jutta 2005 gründete: ein Zentrum, in dem an 365 Tagen im Jahr und 24 Stunden am Tag das Gebet nicht aufhört. Er studierte Germanistik und Philosophie und promovierte 2007 in katholischer Theologie. Johannes war jahrelang in missionarischer Jugendarbeit und nationalen Leitungsgremien der Charismatischen Erneuerung tätig. Johannes hat 12 Bücher zu den Themen Spiritualität und Gebet geschrieben. Er lebt mit Jutta und den vier Kindern in Augsburg.
Unterkunft
Die meisten Unterkunfttickets (Einzel-und Doppelzimmer) werden aufgeteilt auf zwei Budget Hotels, die von 24-7 Prayer gebucht wurden.
Die Hotelreservation beinhaltet auch ein Ticket für den öffentlichen Verkehr während des ganzen Aufenthaltes.
1. Hauptunterkunft:
Hotel Ibis Budget Geneve
Unterkunft mit Frühstücksbuffet à discretion. Nächste Tramstation 7 Minuten entfernt.
(Adresse: Avenue Louis Casai 30, Cointrin, 1216 Geneve, Switzerland)
Hotel Ibis Geneve Centre Nations
Unterkunft mit Frühstücksbuffet à discretion. Tram/Bus vor der Haustür, 6km vom Flughafen entfernt
(Adresse: Rue du Grand Pre 33-35, 1201 Geneve, Switzerland)
In beiden Hotels sind einige Zimmer mit einem Doppelbett und einem Hochbett ausgestattet, werden jedoch als Doppelzimmer gebucht.
2. Mehrbettzimmer:
Für Studenten und Lehrlinge bieten wir eine günstige Unterkunft in einer Zivilschutzanlage (oder ähnlich). Hier benötigst du deinen eigenen Schlafsack und ein Kissen
Bei dieser Variante ist das Frühstück nicht inklusive!